On August 15, 2015, Joanna McClinton, Esquire, took an oath of office to serve the people of Pennsylvania's 191st Legislative District. Since then, she's shattered the legislative glass ceiling in our general assembly.
In 2018, Joanna became the first woman and first African-American to be elected as the House Democratic Caucus Chair, bringing a new and necessary perspective to our state legislature. Following her 2019-2020 tenure, Joanna once again sliced through the red tape in Pennsylvania politics — in 2020, she became the first woman elected as House Democratic Leader in the 244-year history of the oldest legislative body in the country.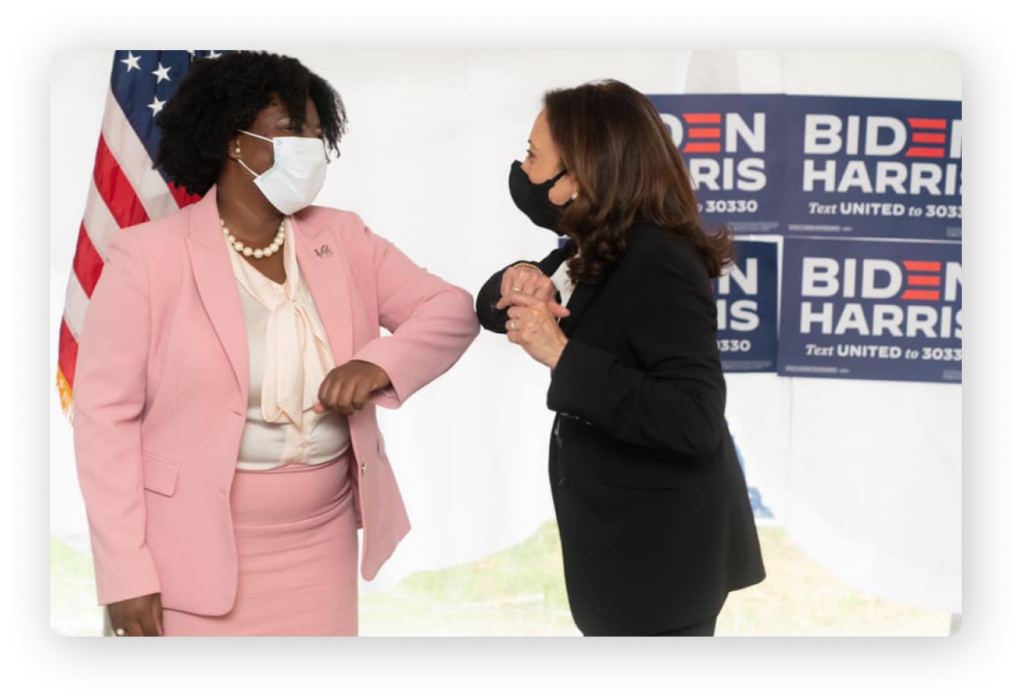 Growing up in a struggling community instilled a deep sense of compassion and a steadfast commitment to justice that propelled Joanna's career. A lifelong resident of southwest Philadelphia and a graduate of Grace Temple Christian Academy, Joanna McClinton sparked a passion for serving her community during her internship with WDAS, a local music radio station. Honing her skills as a young community leader, Joanna studied political science and leadership in global understanding at La Salle University, where she became both a student leader and local neighborhood tutor.
Immediately after graduating from LaSalle, she enrolled in the Villanova University School of Law and seized opportunities to put her legal training to work for her community. Interning with Regional Housing Legal Services, Joanna saw firsthand how the dire lack of community resources and our out-of-touch justice system was hurting our neighbors — most especially people of color — and became inspired to pursue a path in public defense. By the time she earned her degree, Joanna McClinton had gained additional experiences working for both the Philadelphia District Attorney's Office and the Defender Association of Philadelphia.
Leader Joanna McClinton has received recognition for her commitment to public service.
Pennsylvania Legislative Black Caucus 2022 Crystal Bird Fauset Leadership Award

City and State PA's 2022 Above & Beyond List
Power of Diversity: The 2022 Black 100 List
Politico's The Recast: 2021 Power List
The Barristers' Association of Philadelphia — 2018
Outstanding Young Lawyer of the Year
City and State PA's 2017 40 Under 40 List
Fun Time Magazine — Women of Influence Award
PRE-K for PA — Champion Award
Lucien E. Blackwell Guiding Light in the Community Award
Black Gala Women of Excellence Award
Wielding an acute insight into the failures of our justice system, Joanna took a position as an assistant public defender after graduating and remained in the office for seven years until she was named assistant chief of the East Zone. Then, in 2013, she combined her passion for advocacy and the law serving as chief counsel to state senator Anthony Hardy Williams, where she worked to develop policy and legislation, organize civil record expungement fairs and public policy forums, and strengthen the ties between our legislature and our community.
Now serving the commonwealth as House Democratic Leader, Joanna McClinton has made important strides to enact progress in the Pennsylvania Legislature. From working to protect the rights of those accused in our criminal justice system to spearheading the fight to expand our voting rights, Leader McClinton has proven that she will always prioritize the prosperity of Pennsylvanians over the promise of power.